The 2023 Ireland Salary Calculator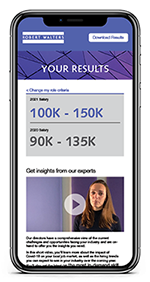 Find out how much you're worth with Ireland's most comprehensive, data-led salary benchmarking tool. Whether you're due a pay rise, promotion, or bonus, download the 2023 Salary Calculator and review accurate market salary and pay averages to see how you compare to others in your sector.
Developed in partnership with a market leading data provider, we assessed over 100,000 jobs posted over the last 12-months, to provide you with accurate data points on Irish salary ranges, and expectations for permanent and contract positions across Ireland.
We offer salary and market insights for permanent and contract positions in Dublin and across Ireland, for the following discipline areas*:

Accounting & Finance
Banking & Financial Services
Compliance

Risk

Legal
Business Support

Human Resources
*For salary and remuneration information on Part-Qualified & Transactional Finance, Business & Management Support, Marketing and Contract Finance, visit the Walters People website here.
The Ireland Salary Guide is a free benchmarking tool and based on the analysis of over 100,000 permanent and contract placements made across Ireland and predictions for the year ahead. Access your free salary benchmarking tool today.