Results for the year ended 31 December 2017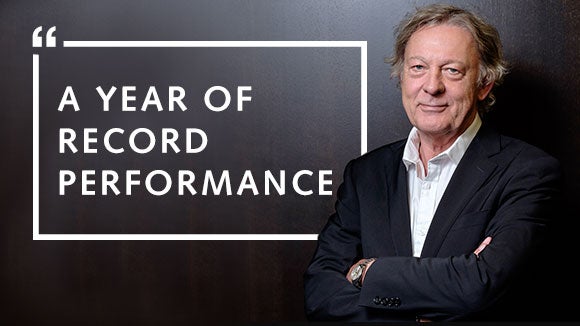 The Robert Walters Group released its full year results, for the year ended 31 December 2017. The Group delivered an outstanding performance in 2017, increasing profit before taxation by 44% to a record £40.6m. All of the Group's regions delivered increases in both gross profit (net fee income) and operating profit and 71% of the Group's net fee income is now derived from overseas businesses. Robert Walters, Chief Executive, commented:
"The Group delivered a record performance in 2017 increasing operating profit by 60% year-on-year. We continued to benefit from both our international footprint which covers 28 countries including many of the world's fastest-growing and exciting recruitment markets and our blend of revenue streams covering permanent, contract, interim and recruitment process outsourcing.

"The Group has successfully maintained the momentum of 2017 and started the year strongly. As a result, we look ahead with confidence."
Financial and operational highlights
Record performance with operating profit increasing by 60% (54%*) to £41.9m (2016: £26.2m) and profit before taxation increasing by 44% (50%*) to £40.6m (2016: £28.1m).
71% of the Group's net fee income derived from outside of the UK.
All regions grew both net fee income and operating profit.
Asia Pacific net fee income up 16% (11%*) to £136.6m (£131.1m*) (2016: £117.6m) and operating profit up 21% (14%*) to £17.7m (£16.8m*) (2016: £14.7m).

In Asia, growth continued to be broad-based across both established and emerging markets with Japan, Hong Kong, Vietnam and Indonesia all delivering excellent results.
Good performance across Australia and a record set of results in New Zealand.
Resource Solutions won several new multi-country contracts across the region.


UK net fee income up 16% to £100.9m (2016: £86.7m) producing an 84% increase in operating profit to £11.8m (2016: £6.4m).


Activity levels in London were strongest across technology, legal and financial services. In the regions, Manchester and St. Albans were the standout performers.
Resource Solutions delivered impressive net fee income growth and entered new industry sectors winning clients in retail, mobile telecommunications, fintech and property management.

Europe net fee income up 34% (26%*) to £80.6m (£75.5m*) (2016: £60.1m) and operating profit increased 168% (149%*) to £11.3m (£10.5m*) (2016: £4.2m).


Outstanding performance across the region.
Belgium, Germany, Portugal, the Netherlands and Spain all delivered net fee income growth in excess of 20% year-on-year.
Our French business, our largest in the region, grew net fee income by 18% and delivered a significant increase in operating profit.

Blend of permanent, contract and interim recruitment businesses is a pillar of strength and point of differentiation.


Other International (Brazil, Canada, South Africa, the Middle East and the USA) net fee income up 93% (87%*) to £27.1m (£26.2m*) (2016: £14.0m) and operating profit increased by 16% (41%*) to £1.1m (£1.3m*) (2016: £0.9m).


Strongest growth across the North America region. Market conditions in Brazil remain challenging but encouraging to see our local business deliver net fee income growth in excess of 50%.


Group headcount increased by 17% to 3,793 (2016: 3,229).

The Group purchased 2.1m shares at an average price of £3.79 for £8.0m which were subsequently cancelled. An additional 0.4m shares have also been purchased at an average price of £4.03 for £1.8m through the Group's Employee Benefit Trust.
Strong balance sheet with net cash of £31.1m as at 31 December 2017 (31 December 2016: £22.5m).
* Constant currency is calculated by applying prior period exchange rates to local currency results for the current and prior periods.

The Company will publish an interim management statement for the first quarter ending 31 March 2018, on 10 April 2018.

For further investor information visit our website: http://investors.robertwalters.com/