Robert Walters in Top 3 Most Socially Engaged Recruiters list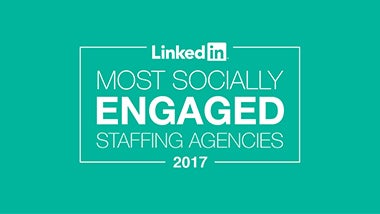 Robert Walters has been named a Top 3 Most Socially Engaged Recruiter on LinkedIn for the third year running.

The accolade is awarded to recruitment companies who have built strong social engagement strategies and is based on interactions with LinkedIn's 500 million members. More specifically the ranking takes into account social reach, employee engagement, talent brand and content marketing power compared to competitor recruitment firms with over 500 employees.
This huge achievement is a reflection of the company's dedication to both harnessing the power of LinkedIn and integrating social media into the business. It also demonstrates that the firm is sharing high quality, useful content which staff and followers are engaging with and sharing with their networks.

The list is based on extensive analysis of the interactions between over 60,000 staffing firms, 627,000 consultants, and LinkedIn's 500 million members.

Talking about the results, Phil Jenkins, Digital & Communications Director said:

"We are proud to be ranked within the top 3 Most Socially Engaged recruitment consultancies on LinkedIn. Thank you to our clients and network for helping us achieve another milestone. This is also a reflection of the hard work and dedication of our 3,697 consultants, and a recognition of our social recruiting abilities. Achieving this for the third year running is testament to our content driven strategy which focuses on sharing quality content with our followers."

Measuring the most socially engaged

The key to performing well in the Most Socially Engaged Ranking is consistency across these metrics.
Content marketing: Measures content efforts through members' engagement
Social recruiting: Measures how employees engage
Reach and engagement: Overall presence on LinkedIn
To see the full list of the top 25 most socially engaged companies on LinkedIn please click here.