Robert Walters is named Best International Recruiter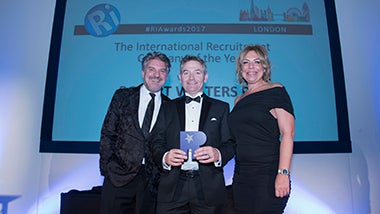 Robert Walters was named Best International Recruiter at the 2017 Recruitment International Awards in London on Thursday 2 November.
The judges credited the win to the company's broad and growing international network of offices which now covers 28 countries and its strong financial performance.
They also cited Robert Walters' successful track record of supporting international moves for candidates, strongly praising the firm's South Africa and Australia roadshows as well as its New Zealand International Candidate Management function as evidence that the company leverages its global footprint to provide the best possible service to its clients and candidates.
Robert Walters' Pulang Kampung campaign in Indonesia also received credit as an innovative and impactful approach to helping employers overcome skills shortages by promoting opportunities to citizens living abroad and attracting them back home.
Giles Daubeney, Deputy CEO commented: "We are delighted to be named Best International Recruiter by the Recruitment International Awards. This success is testament to our dedicated staff who always strive to provide a high quality, consultative recruitment service to our clients and candidates. We are also extremely pleased that many of our innovative programmes have been recognised as industry-leading by the judges."
For further information, please contact:
Laura O'Flynn
T: +353 (1) 633 4111
E: laura.oflynn@robertwalters.com