Results for the year ended 31 December 2018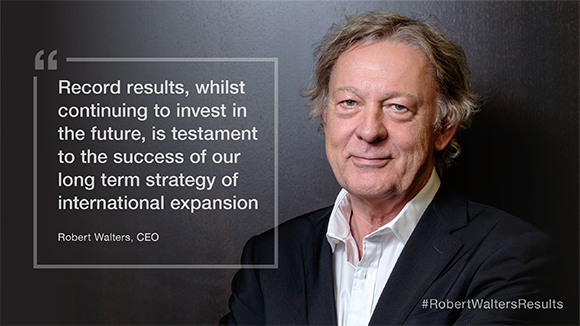 The Robert Walters Group today released its full year results, for the year ended 31 December 2018. The Group delivered a record performance in 2018, increasing profit before taxation by 21% to a record £49.1m. All of the Group's regions delivered increases in gross profit (net fee income), with standout performances delivered by our Asia Pacific and European regions.

"The Group has delivered another strong set of results. Our ability to produce a significant increase in profitability whilst also continuing to invest for the future with new country and office openings is testament to the success of our long-term strategy of international expansion and recruitment discipline diversification.

"It's inevitable that the current uncertainty surrounding Brexit will continue to affect client and candidate confidence in the UK. We are a truly global business with 73% of net fee income derived from outside of the UK, a global footprint covering 30 countries and well-established operations in all those locations that might benefit from any potential movement of business and staff from the UK. 2019 has started well, in line with the Board's expectations, and the Group is well positioned to continue to take advantage of market opportunities as they arise."
Financial and operational highlights
Record results with operating profit up by 19% (21%*) to £49.7m (2017: £41.9m) and profit before taxation up by 21% (23%*) to £49.1m (2017: £40.6m).
73% (2017: 71%) of the Group's net fee income derived from outside of the UK.
Opened in two new countries, Chile and the Czech Republic and added four new offices in existing markets - Geneva, Hamburg, Leeds and Los Angeles. Group now has a footprint covering 30 countries.
Asia Pacific net fee income up 13% (16%*) to £154.1m (£159.1m*) (2017: £136.6m) and operating profit up 20% (26%*) to £21.2m (£22.3m*) (2017: £17.7m).


Demand for bilingual professionals continued to be strong across Asia.
Another year of record performance in Japan. Hong Kong, Taiwan and Mainland China performed well and there was accelerated growth in our emerging South East Asia markets, with Indonesia, Thailand and the Philippines all increasing operating profit in excess of 50%*.
In Australia, growth was strongest across Melbourne, Perth and Adelaide and we continued to benefit from our increased focus on the SME market and higher growth disciplines such as fintech, technology and digital.

UK net fee income up 7% to £107.5m (2017: £100.9m) delivering a 5% increase in operating profit to £12.4m (2017: £11.8m).


Candidate and client confidence increasingly cautious due to Brexit uncertainty.
Activity levels strongest outside of London with Manchester, Birmingham and Leeds, in particular, well positioned as regional technology and commerce hubs.
Resource Solutions increased net fee income and continued to expand client base.


Europe net fee income up 25% (24%*) to £100.8m (£100.0m*) (2017: £80.6m) and operating profit increased 33% (32%*) to £15.0m (£14.9m*) (2017: £11.3m).


Outstanding performance across the region as markets become increasingly candidate short. Growth was broad-based across permanent, contract and interim recruitment.

Net fee income in Germany increased in excess of 70%*. Spain and the Netherlands grew by more than 25%*. France, our largest business in the region, grew net fee income by more than 15%*.

Other International (the Americas, South Africa and the Middle East) net fee income was up 10% (14%*) to £29.7m (£30.9m*) (2017: £27.1m) and operating profit increased by 2% (decreased 3%*) to £1.1m (£1.1m*) (2017: £1.1m).
Giles Daubeney will be stepping down from the Board and his role as Deputy CEO at the Group's Annual General Meeting on 17 May 2019.
Group headcount increased by 9% to 4,132 (2017: 3,793).
Group purchased 791,336 shares at an average price of £6.42 for £5.1m through the Group's Employee Benefit Trust.
Strong balance sheet with net cash of £74.3m as at 31 December 2018 (31 December 2017: £31.1m).

* Constant currency is calculated by applying prior year exchange rates to local currency results for the current and prior years.


The Company will publish a trading update for the first quarter ending 31 March 2019, on 15 April 2019.

For further investor information visit our website: http://investors.robertwalters.com/

Further information

Robert Walters plc +44 (0) 20 7379 3333
Robert Walters, Chief Executive
Alan Bannatyne, Chief Financial Officer

About Robert Walters
Robert Walters is a market-leading international specialist professional recruitment group with over 4,100 staff spanning 30 countries. We specialise in the placement of the highest calibre professionals across the disciplines of accountancy and finance, banking, engineering, HR, IT, legal, sales, marketing, secretarial and support and supply chain and procurement. Our client base ranges from the world's leading blue-chip corporates and financial services organisations through to SMEs and start-ups. The Group's outsourcing division, Resource Solutions, is a market leader in recruitment process outsourcing and managed services.

www.robertwalters.com