Are you prepared to interview over Skype?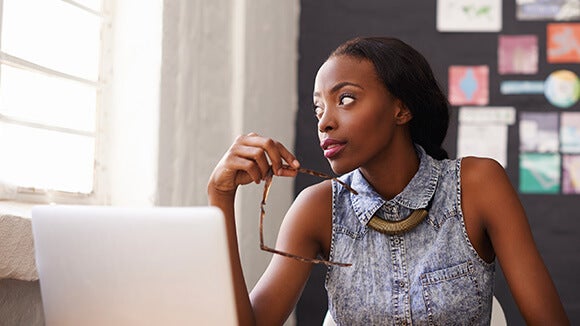 With tighter hiring deadlines and law firms wanting to hire the best talent in the market, web based interviews are on the rise.
While initially the idea of interviewing via Skype may seem less daunting than being sat in the same room as an interviewer, it is extremely important not to be too complacent and to make the best impression you can.
We discuss some of the factors that could help you impress via Skype.
1. First impressions and your appearance
As you aren't going to be in the same room as your interviewer, you will need to rely on some key points to give the right impression and show your commitment to the role. Things to consider include:
Try to look into the camera rather than your image on the screen. This will help you appear as engaged as possible.
Your Skype username - think about what kind of first impression this will create. Does it position you as a professional?
Your outfit - dressing in the same way as you would a face-to-face interview will not only put you in the right mind frame, it will eliminate any embarrassment should you need to stand up or move mid-interview.
Colour - wear a dark outfit with a touch of colour - dark colours typically work best for video. We suggest wearing a dark suit and lighter coloured shirt or blouse. For men, wearing a tie is a good idea, and women should stick to a comfortably fitting blouse with a modest neckline. Excessive makeup and glittery jewellery can be distracting.
2. Your surroundings
When choosing your interview space, make sure it's distraction free and that it mirrors a business setting. You'll also want to check what will show up behind you on the screen, keeping to a blank or neutral background.
Inform anyone else at home about the meeting so you are not interrupted.
Pick the best light – before you start the interview, test the angle of your lighting to make sure there isn't too much glare or shadow.
Keep a notepad and pen handy so you can take brief notes if you need to, keeping them accessible but out of range of the camera.
3. During the interview
Try to look into the camera rather than your image on the screen. This will help you appear as engaged as possible.
Have your documents closeby – keep a printed version of your CV and any other necessary documentation handy. Keeping your email open in case you need easy access to electronic files is also recommended.
Monitor the speed and tone of your speech – you'll need to be prepared for a slight delay in the audio and video, so avoid moving or speaking too quickly. Try to relax – a smile will show you are confident and at ease with the Skype interview process.
Technical issues – if you experience a technical glitch, maybe a weak connection or some interference, ask the interviewer to repeat the question. If the problem continues, politely mention it and redial to avoid missing any crucial communications.
Body language – centre yourself a reasonable distance away from the camera. You'll want to keep the upper halves of your arms showing, allowing for some free space above your head so that the interviewer can read your body language as well.
4. Finishing the interview
As with any face-to-face interview, make sure you find the opportunity to summarise the main reasons why you could succeed in the role. It's also important to thank the interviewer for his or her time and ask about the next steps. Lastly, while it may seem obvious, be sure to check the camera is off before departing.
Contact us
To explore your legal recruitment needs in Dublin, contact Claire Dunwoody on +353 (0)1 633 4111 or email claire.dunwoody@robertwalters.com.